Allan Masterton (c1750-1799)
Writer and Friend of Robert Burns
Allan Masterton was a writing master in Stevenlaw's Close, in the High Street, Edinburgh and befriended Robert Burns through their mutual friend William Nicol. In 1795, he became writing master in the High School, along with his brother Dugald, and his nephew, also Dugald.
Genealogy
According to the two references below, Allan Masterton came from a Linlithgowshire family. The work by Rogers, on which Lindsay probably relies, was rather disappointing and gives no hard evidence of direct ancestral links. As a piece of genealogical research it's weak, with evidence restricted to a few random events out of the many available. It also has at least one error. The baptism of Agnes Masterton in Abercorn was on 3rd April 1614, not 3rd April 1585.
I've assembled a very small tree, however, starting with the two brothers Dugald and Allan. Dugald married Ann Lothian and Allan married, in 1772, Annie Cameron, daughter of Dugald Cameron, a farmer from Ardnamurchan. Dugald's son, also Dugald, was, according to OPR records index in scotlandspeople, born in 1782 so he would only be 13 when he was employed to assist his father and uncle at the High School.
Allan and Annie had at least four children:
Ann (born c1773?)
John Shiells christened 4 October 1780
Mary Elizabeth christened 4 October 1780
Archibald Campbell christened 8 April 1784

Daughter Ann, whom Burns immortalised in song, married Dr Philip Derbishire in Edinburgh in 1793 then moved to Bath and then London.
Dugald and Ann Lothian had at least four children:
Kathrine christened 23 November 1765
Dewar christened 15 November 1767
Isobell christened 4 December 1770
Dugald christened 25 May 1782

(The gap between Isobell and Dugald is curious, and one suspects a misreading for 1772 - which would make his appointment to the High School at age 23 rather than 13, perhaps a more credible age for such a position?)
---
Masterton, Allan (d.1799)

He came from a Linlithgowshire family. When Burns was in Edinburgh, Masterton was a writing master in Stevenlaw's Close, in the High Street. In 1795, he became writing master in the High School, along with his brother Dugald, and his nephew, also Dugald. He had a good knowledge of Scots song, and was by way of being a composer himself. William Nicol introduced him to Burns. They visited Nicol in the autumn of 1789 at lodgings he had taken near Moffat. The jollification resulted in that splendid drinking song, 'Willie brew'd a peck o' maut', for which Masterton wrote the music. The song appeared in the Scots Musical Museum, 1790. He also wrote the music for several other Burns songs, including the airs for 'Strathallan's Lament', 'The Braes o' Ballochmyle', 'The Bonnie Birks o' Ayr', 'On Hearing a Young Lady Sing', and 'Ye gallants bright, I rede ye right', the last of which Burns wrote for Masterton's daughter , Ann.

In a letter to Captain Riddell, dated 16th October 1789, Burns described Masterton as 'one of the worthiest men in the world, and a man of real genius'. Masterton became a sort of intermediary for Burns in Edinburgh when he wrote to Peter Hill and others buying books. None of Burns's letters to Masterton has survived.

Masterton, Miss Ann
Daughter of Allan Masterton. She married a Dr. Derbishire, who practised first in Bath and then in London. They had one son. Burns recorded in a note to the song 'Beware o' Bonie Ann' that he 'composed this song out of compliment to Miss Ann Masterton, the daughter of my friend Allan Masterton.....' The song appeared in Johnson's Museum.

The BURNS Encyclopedia
Maurice Lindsay
Robert Hale, London. 1959
Third edition (revised and enlarged) 1980
page 227
---
Allan Masterton

The lands of Masterton, lying in the parish of Dunfermline, are so designated from the Anglo-Saxon Maestertun, signifying the habitation of the master. Under the former name of Ledmacdunegil, the lands were granted by Malcolm IV. to the monks of Dunfermline. Among the barons who in 1296 swore fealty to Edward I., appears William de Masterton. A descendant of the family, Margaret, daughter of Alexander Masterton of the lands of Bad and Parkmill in the county of Perth, and wife of Mr. James Primrose, was nurse to Prince Henry, eldest son of James VI., for which service she and her husband received a pension during their lives. On the January 1591-92 Captain Robert Masterton of Pittenweem appears as pursuer in a legal process.2 In a process are named, on the February 1591-92, John Masterton of Broughton, and Edmund his son and heir.3 On the 15th March 1595 Gilbert Masterton, merchant in Edinburgh, is mentioned in a bond.4
A branch of the Masterton family settled in the county of Linlithgow. On the 3rd April 1585 Archibald Masterton, of the parish of Abercorn, had his daughter Agnes baptized.5 Alexander Masterton, merchant, and one of the magistrates of Linlithgow, married, in February 1691, Margaret Glen; they had on the February 1693 a daughter Marion, baptized.6 On the 29th November 1702 Thomas Masterton, merchant in Linlithgow, had a son, Robert, baptized.7 At Linlithgow, on the 23rd February 1735 Archibald Masterton, son of Archibald Masterton, miller in Mill, and Helen West, relict of William Jamieson, tenant in had their banns of marriage proclaimed.8
From the Linlithgowshire family derived Allan Masterton who, when Burns resided in Edinburgh, exercised the vocation of writing-master in Stevenlaw's Close, High Street. From thence he was by the Town Council, on the 26th August 1795, promoted as teacher of writing in the High School, conjointly with his brother Dugald, and his nephew, Dugald Masterton, junior.
To his skill as a writing-master, Allan Masterton added an acquaintance with the national minstrelsy; he was also accomplished as a musical composer. With the Poet he became acquainted on the introduction of William Nicol, and the acquaintance ripened into a warm friendship. In the autumn of 1789 Nicol took lodgings at Willie's Mill, a place situated in the vicinity of Moffat, and there he was waited on by the Poet, accompanied by Masterton, who had been on a visit to Dalswinton. The jollities of the occasion induced the Poet to compose his song of "Willie brew'd," which was set to music by Masterton. He is the Allan of the song. In his letter to Caprtain Riddel, dated 16th October 1789, the Poet describes Masterton as "one of the worthiest men in the world, and a man of real genius."
Among other tunes composed by Allan Masterton for Burns's songs were those to "Strathallen's Lament," "The Braes o' Ballochmyle," "The Bonnie Birks o' Ayr," and "On hearing a Young Lady sing." In compliment to Mr. Masterton's daughter, Anne, the Poet composed the song beginning, "Ye gallants bright, I rede ye right," to which the young lady's father added the music. Anne Masterton married Dr. Derbishire, who practised as a physician, first at Bath and afterwards in London. She was living in London in 1834; the date of her death is unknown. Her son, Stewart Derbishire, became Queen's Printer at Quebec; he died there on 27th March 1863.
Allan Masterton died in 1799.
1 Chartulary of Dunfermline, p.23.
2 General Register of Deeds, vol. xxxix.
3 Ibid, vol. xxxix. fol. 208.
4 Ibid, vol. li.
5 Abercorn Parish Register.
6 Linlithgow Parish Register.
7 Ibid.
8 Ibid. For further particulars regarding the Masterton family, see Genealogy of Mastertons of that Ilk, Parkmill, etc. privately printed. 4to, 1878.

The Book of Robert Burns
Genealogical and Historical Memoirs of the Poet and his Associates and those Celebrated in his Writings
Rev. Charles Rogers, D.D., LL.D.
The Grampian Club, Edinburgh. 1890
In Three Volumes: Vol. II
pages 32-34
---
NOW EXHIBITING, AT NO. 25, SOUTH HANOVER STREET,
THE STATUES of WILLIAM NICOL, ROBERT BURNS, and ALLAN MASTERTON, the "Three Merry Boys" in the celebrated Song, Willie brewed a Peck o' Maut, cut in Stone, the full size of life. By DAVID ANDERSON, Sculptor, Perth.
Admittance, Ladies and Gentlemen, 6d - Tradespeople, 3d.
Open from ten morning, till nine at night.
The Scotsman
4th February, 1835

Editor's Note: These statues may now be in the grounds of Fingask Castle, Perthshire.
---
On the 27th ult. there died in Quebec Stewart Derbishire, Her Majesty's printer. He was the son of a medical man in Bath, and his mother was Miss Ann Masterton, daughter of the late Mr Allan Masterton, of Edinburgh, the friend of Burns, and the "Allan" of the song "Here are we met, three merry boys." Miss Masterton was distinguished, in addition to personal charms, for more than average abilities. Burns' lines to "Bonnie Ann" were addressed to her. Mr Derbishire began life as an ensign, but soon turned his attention to law, where he shortly distinguished himself. He was engaged in some important trials, among others in that of the "Dorchester labourers" in 1832, whom he defended with considerable eclat. He connected himself with the press in London, and exerted himself largely in the movement which resulted in the Reform Bill. During the Spanish Constitutional war he was employed as a special correspondent at the head quarters of the Constitutional army, in which capacity he distinguished himself, not only by his writings, but by personal bravery. He took an active share in desperate fighting, for....
The Scotsman
22nd April, 1863

---
DEATHS: At Quebec, on the 27th ult., Stewart Derbishire, Her Majesty's printer. He was the son of a medical man in Bath, and his mother was Miss Ann Masterton, daughter of the late Mr Allan Masterton, of Edinburgh, the friend of Burns, and the "Allan" of the song "Here are we met, three merry boys." Miss Masterton was distinguished, in addition to personal charms, for more than average abilities. Burns' lines to "Bonnie Ann" were addressed to her. Mr Derbishire, since his appointment as Queen's printer, resided in Quebec, where his hospitality and personal qualities will long be remembered.
Dundee Advertiser
Thursday, 23rd April 1863

---
Kay's Original Sketches
MR. JOHN DOWIE
VINTNER, LIBBERTON'S WYND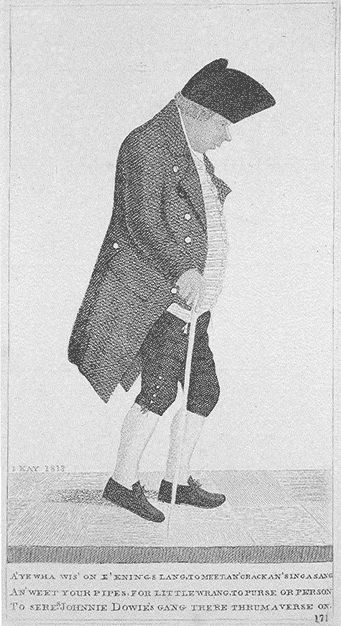 "JOHNNIE DOWIE'S Tavern" was a place of old standing, and particularly celebrated for the excellence of its ale, "Nor' Loch trouts and Welsh rabbits." It was situated in a narrow alley (called Libberton's Wynd) running betweem the Lawnmarket and Cowgate, which has lately been demolished to make way for George the Fourth Bridge. The tavern, both as to internal and external appearance, wore an unpromising aspect. The principal room, which looked to the Wynd, was capable of containing about fourteen persons, but all the others were so small, that not above six could be stowed into each, and so dingy and dark that, even in broad day, they had to be lighted up by artificial means. Yet, in this unseemly place of entertainment, many of the respectable citizens, and several remarkable persons of last century, were in the habit of meeting nightly, and found in it no ordinary degree of social comfort and amusement. Fergusson the poet was amongst its most early frequenters. Herd, the collector of Scottish songs - Paton, the antiquary (who has been formerly noticed) - Cummyng, of the Lyon Office - Hunter of Blackness - Anthony Woodhead, solicitor-at-law - George Martin, writer - and many other well-known Edinburgh characters, were its ordinary visitors. Dowie's Tavern is also known as having been the favourite resort of Burns during his sojourn of six months in Edinburgh, where, with Nicol of the High School, and Allan Masterton - the Willie and Allan of his well-known Bacchanalian song - he held many a social meeting.
Original Portraits and Character Etchings with Biographical Sketches
John Kay, Miniature Painter
No CLXXI.
Vol II, page 1
Edinburgh: Adam and Charles Black
1877
---
WILLE NICOL

A BURNS SYMPOSIUM
[BY THE REV. DR JAMES KING HEWISON.]
AN old pilgrim road from Edinburgh through Annandale to the shrine of St Ninian at Whithorn passes across the broad meadow of Dalswinton, in Nithsdale, where Robert Burns was wont to plough, and then by a ford over the Nith near the poet's home at Ellisland. In feudal days this was the way for the black-veiled nuns of St Benedict seeking safety in Lincluden Convent, and for the grey-vested Franciscans when making for the Hermitage of Friars Carse or the shrines still farther west. Nor did the Scots heroes, Wallace, Bruce, and Roger Kirkpatrick, far less "the auld enemie" under the English Kings, Edwards, ignore this "gait" by which their ill-fated ally, the Comyn, left his menacing towers of Dalswinton to say futile prayers at the altars of the Grey Friars in Dumfries.
By the end of the eighteenth century these lands of the Comyn were the property of an Edinburgh banker, Patrick Miller, whose chief hobbies were the propulsion of boats by paddle-wheels and the improvement of agriculture. This ingenious inventor formed a lake near the ruined castle whereon to try the first steam-driven vessel. On the 14th October 1788 paddle-wheels moved by a steam engine propelled his boat along gaily at the rate of five miles an hour, to the delight of Miller and his friends, of whom tradition says that Robert Burns was one. For certain he was at Ellisland overlooking the spot that day.
"Honest Allan"
Then the old manor house of Dalswinton was often a scene of social gaiety. Mr Miller was an enthusiastic Freemason, being a Depute-Master of Canongate Kilwinning Lodge in the Capital. Among his associates there was a coterie of teachers - Louis Cauvin, Alexander Campbell, ("Singing Sannock"), John Campbell, Allan Masterton (teacher of writing, who dwelt in Stevelaw's Close), and the notable William Nicol (who resided in Causewayside.) In 1787, during his first visit to Edinburgh and to the Lodge, Burns became acquainted with this fraternity. Thereafter he took lessons in French from Louis Cauvin, in Latin from Nicol, and probably lessons in music from Masterton. For "Honest Allan," as Burns styled Masterton, was a Gael and a composer of tunes, such as "Strathallen's Lament," and "Braes of Ballochmyle"; and later he became one of the musical teachers of Sir Walter Scott. Music may have made Masterton a welcome guest or teacher at Dalswinton, where Mrs Miller was a beautiful singer and player on the harpsichord. On one occasion when Burns was dining in Dalswinton, Mrs Miller sang the new pathetic song entitled "Raving winds around her blowing," apparently not knowing the name of the author. Burns was delighted, and announced that he was the author of the composition.
Nicol (1744-1797) was a genius, born at Dunbretton, near Annan, nurtured in poverty which he surmounted, who, after studying arts, theology, and medicine in Edinburgh University, secured by competitive examination the classical mastership in the High School of Edinburgh, under Rector Adam. According to Dr Robert Chambers, Nicol "for skill and facility on Latin composition was perhaps without a rival in Europe." Unfortunately he had two serious defects, which brought him into trouble - an ungovernable temper and the too convivial spirit of his age. Burns, however, loved this unsteady genius, wrote vernacular letters to him, stayed in his home in Edinburgh, made a tour in the Highlands with him, and crowned his friendship by presenting the Edinburgh edition of his Poems thus inscribed, "To William Nicol - a man, next after an only brother, the dearest friend of the author." Burns also had a son baptised "William Nicol."
A Famous Symposium
This camaraderie had an immortal memorial in a convivial song more lively and amusing than any ode of Horace. It is entitled "Willie brewed a peck o' maut." The occasion for its composition was probably the autumn of 1789. At or about that time Masterton was a visitor to Dalswinton. He crossed the meadow and the Nith to greet the poet, and they determined to visit their bosom crony, Nicol, then in the district. The locus of that meeting is still disputed. Nicol was int he habit of spending the school vacation in Moffat; but he purchased a farm in Glencairn in 1788. The song first appeared in Johnson's Museum in 1790, and Burns wrote an explanatory note regarding it in the Glenriddell MS., thus:- "This air is Masterton's; the song mine. The occasion of it was this. Mr William Nicol, of the High School, Edinburgh, during the autumn vacation being at Moffat; Honest Allan, who was at that time at Dalswinton, and I went to pay Nicol a visit. We had such a joyous meeting that Mr Masterton and I agreed, each in our own way, that we should celebrate the business." Then appeared the well-known song beginning:-

"O Willie brewed a peck o' maut.
And Rob and Allan cam to pree:
Three blither hearts that lee-lang nicht
Ye wad na find in Christendie."
Strange, however, to narrate, Dr Currie, Allan Cunningham, and Dr T. B. Grierson (the latter was son of William Grierson, the intimate friend of Burns and his family), together with local tradition in Mid-Nithsdale, all agree that the merry meeting took place at Nicol's farm, called Laggan in Nithsdale. There are two Laggans - one in Dunscore parish and the other in Glencairn, and both within a few miles' distance from Ellisland. That in Dunscore Cunningham positively, yet wrongly, declared to be the locus for the song on the occasion of the house-heating there, since Masterton, "then on a visit to Dalswinton, crossed the Nith and, with the poet and his celebrated punch-bowl, reached Laggan ... if the tradition of the land may be trusted." This may refer to the Lowestoft China Bowl presented by Burns to Nicol, which, as the property of Lord Rosebery, was exhibited in the Glasgow Exhibition in 1896, along with a portrait of Nicol.
Solution of a Problem
Several writers, in discussing the episode, have erred concerning the date of the purchase of the small estate by Nicol. Up to 1782 the farm of Lagganpark, in Glencairn parish, situated in the green uplands sloping down from the Keir hills towards the west - seven miles as the crow flies, north-west from Ellisland Farm - belonged to Sir Robert Laurie of Maxwelton, who executed a trust disposition in favour of Veitch and other trustees, by whose instructions the lands of Meikle and Little Laggans, embracing 284 acres, were advertised for sale in November 1786. Burns, who visited Dalswinton in 1787, and next year entered Ellisland, is credited with advising Nicol to purchase the land. Nicol had ammassed money, which was increased by the dowry of his wife, Janet Cairns, so that they were able to purchase the estate for £1500. The conveyance is dated 11th January 1788. The date of the house-heating is not recorded. The dwelling-house was remodelled and enlarged. A tradition lingers there that the brewst was made in a hollow in the hills above the steading.
It may now be suggested, for a solution of the problem as to the scene of the famous symposium, that both accounts are accurate - Burns and Masterton having ridden up to Moffat and enjoyed a merry carouse, the memory of which inspired the bard and the musician; and on a second occasion, at the house-heating in Lagganpark, the trio would there meet again, when the song would be sung to Masterton's air for the first time. It seems more reasonable to suppose that the first barley grown and harvested by 1789 should have been devoted to Willie's own brewst for the poetic Exciseman than that Willie brewed it in his vacation lodging at "Willie's Mill," near Moffat. It matters little now. But in 1793 these three blithe lads once more convened in the Globe Tavern in Dumfries, under the horn of the moon, and probably again did not part company until the crow of cock. William Nicol did not long survive the bard; he died on the 21st April 1797, and was interred in the Calton Churchyard, Edinburgh. His grandson and heir, Dr William Nicol Aitken, after a residence in Sierra Leone as Colonial Surgeon, retired to and died in Penpont in 1862, and was buried in Glencairn Churchyard. His son, Robert Nicol Aitken, sold the farm, which is now merged in the estate of Maxwellton, as of old.
The Scotsman
25th January, 1928